Caribbean Cement Company Limited is one of the corporate entities, which has joined forces with over 100 private and public  sector  bodies  across  Jamaica  to  provide  an estimated 10,000 young persons, aged 17 to 29, with vocational training and employment opportunities as part of the New Employment Opportunities for Youth in Jamaica (NEO-Jamaica)  project.    This  initiative  is  headed  by  the Youth Upliftment Through Employment (YUTE) arm of the Private Sector Organisation of Jamaica (PSOJ).
On June 03, 2016, NEO-Jamaica was officially launched by Jamaica's Governor-General, His Excellency, the Most Honourable Sir Patrick Allen, who is the programme's Patron, at a ceremony held at King's House.     Sir Allen praised the programme and its benefactors stating, "this is a pioneering effort in which businesses, government and civil society join forces to provide resources, knowledge, and capacities in order to implement efficient and sustainable youth employment solutions."
NEO-Jamaica is carded to run from 2016 to 2018.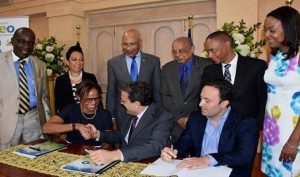 CCCL made a special scholarship presentation to Ms. Ashleigh McGregor who will be attending The University of Tampa to study Criminology. As a condition of the scholarship, Ms. McGregor will work with Carib Cement annually to provide assistance in her chosen field, particularly with the neighboring communities that are known for having a high probability of violence.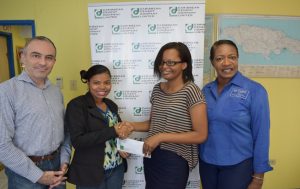 Employees from Carib Cement took the time to read to students at the Harbour View Primary School on the Read Across Jamaica Day held earlier. The initiative, organised by the Jamaica Teachers' Association, is aimed at promoting the importance of literacy among Jamaica's youth.
In a show of their appreciation, the children performed songs and recited poetry to Carib's employees.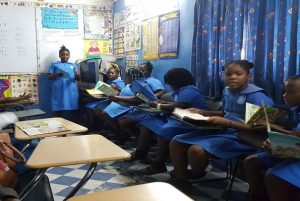 Carib Cement donated Cassava Piece Recreational Park in St. Andrew to the members of the community. The project commenced in August and was finished in record time in October 2016.
The residents, especially the children, were elated for the park and promised to maximize its use.
On March 06, 2017, the official handing over ceremony for the Green House project was held. In attendance were Carib Cement's Chairman, Mr. Parris Lyew-Ayee and Minister  Pearnel Charles Jr.
The participants, who comprised of inmates, visited a farm and were trained in Plant nutrition and Pest management.  They received Certificates in Greenhouse Farming as well as they were congratulated by the Chairman for being a part of this great initiative.  Employees of Carib Cement have committed to purchase the first set of produce from the programme which include lettuce, sweet peppers and basil.